Hi everyone, how are you? Supercentenarian , Ms Kane Tanaka 116 who is the today's topic.
I as one of Japanese citizen, am happy to announce that Ms Kane Tanaka whose age is 116, World's Oldest Living Person by Guinness World Records.
Kane Tanaka, born 2 January 1903 is a Japanese supercentarian who at her age of 116 years, is the world's oldest verified living person following the death of 117-year-old Chiyo Miyako on 22 July 2018.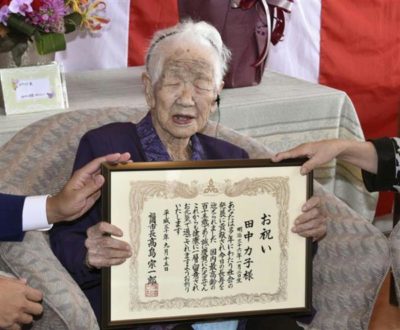 What's Supercentenarian ?
A supercentenarian (sometimes hyphenated as super-centenarian) is someone who has lived to or surpassed their 110th birthday. This age is achieved by about one in 1,000 centenarians.
Anderson et al. concluded that supercentenarians live a life typically free of major age-related diseases until shortly before maximum human lifespan is reached.
In 2003, the Gerontology Research Group estimated that there were 300–450 living supercentenarians in the world (an estimate not updated as of 2017), while they had validated approximately 40. Adding those mentioned in other sources results in over 100 incidences.
A study conducted in 2010 by the Max Planck Institute for Demographic Research found 663 validated supercentenarians, living and dead, and showed that the countries with the highest total number (not frequency) of supercentenarians (in decreasing order) were the United States, Japan, England plus Wales, France, and Italy.
The first verified supercentenarian in human history was Dutchman Geert Adriaans Boomgaard (1788-1899), and it was not until the 1980s that the oldest verified age surpassed 115.
Research on the morbidity of supercentenarians has found that they remain free of major age-related diseases (e.g., stroke, cardiovascular disease, dementia, cancer, Parkinson's disease, and diabetes) until the very end of life when they die of exhaustion of organ reserve, which is the ability to return organ function to homeostasis.
About 10% of supercentenarians survive until the last 3 months of life without major age-related diseases, as compared to only 4% of semisupercentenarians and 3% of centenarians.
Ms Kane Tanaka's history
Tanaka was born on 2 January 1903 in the village of part of Fukuoka, Fukuoka Prefecture, on the southern island of Kyushu of Japan. Tanaka was born prematurely and raised on breast milk from women other than her mother.
During World War II, she worked in a store selling rice cakes with her husband. After her husban and her son died during the war, she continued working in the store before retiring at age 63. In the 1970s, she visited the United States, where she has several nieces and nephews.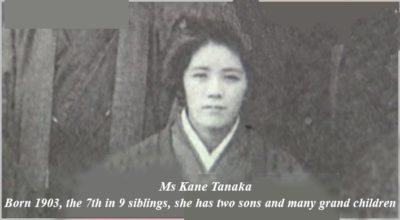 At age 103, Tanaka was diagnosed with colon cancer and survived. When she was 107, her son wrote a book about her, which discusses her life and longevity and is titled In Good and Bad Times, 107 Years Old. She was interviewed by KBC in September 2017 when she was 114.
At the time of Chiyo Miyako's death, Tanaka lived in a nursing home in the Higashi-ku ward of Fukuoka. She was still in good health and occupied her time by playing the board game Othello and taking short walks in the facility's hallways.
Her hobbies include calligraphy and calculations. She credits family, sleep and hope as her secrets for longevity. In July 2018 she said she would like to live another five years to the age of 120.
Tanaka has credited a strong appetite and her liking sweets, plus drinking three cans a day of canned coffee, carbonated drinks, and various nutritional drinks.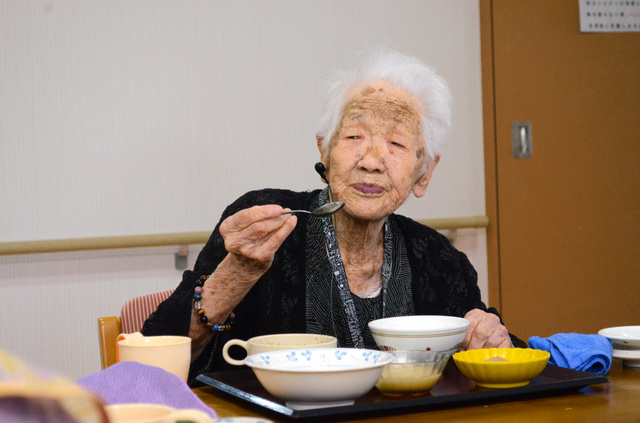 Her great-nephew, Gary Funakoshi, told the San Diego Union-Tribune that Tanaka attributes her longevity to her faith in the Kami. Following the death of Shimoe Akiyama on 29 January 2019, Tanaka became the last surviving Japanese person born in 1903.
On March 9, 2019 Tanaka was recognized as the World's Oldest Living Person by Guinness World Records.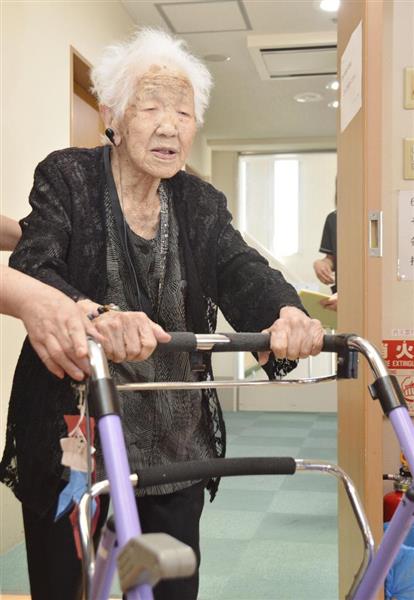 Finally, please watch her present video in Japanese though, I hope you roughly understand and let's hope her more longevity in good shape.
Besides, please visit the following "Rest heart rate and life expectancy"thanks